A tote bag made in Japan that you can easily carry on your shoulder
Let's make a bag that you can easily carry around. Handles and parts made of carefully selected materials in addition to the domestic materials that Kyoto Denim is proud of.Special"Tote bag made in Japan"We will deliver.
At home, for a little outing, or as a second bag, on your side.


Switch colors to suit your mood.
Adult-like, moist gray blue and light blue with a sense of cleanliness.
By having different colors on both sides, you can choose the color that suits your mood and clothes at that moment.
Which one to turn up is up to you.

Not only A4 size, but also women's fashion magazines and laptopsIt fits in firmly.

The handle, which can be selected from various colors, is characterized by its glossiness and good touch.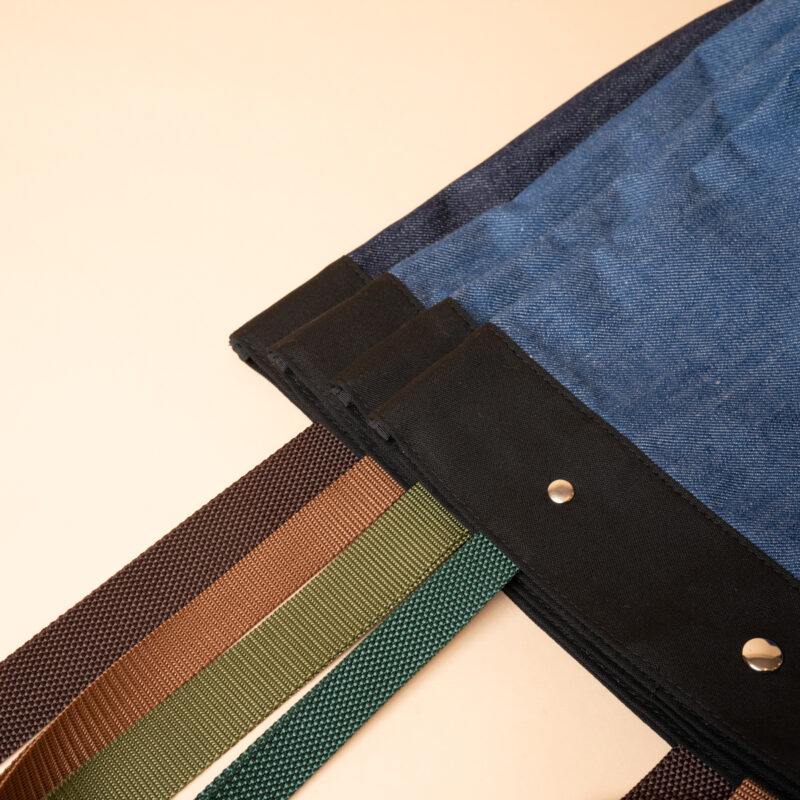 In the center of the bag, so that the mouth can be closedMetal snap buttonI attached one.


Sewing is tailored one by one by skilled craftsmen at a workshop in Kyoto."Made in KYOTO".
Body size
| 高 さ | Width | Machi width | Handle length | weight |
| --- | --- | --- | --- | --- |
| About 35cm | About 30cm | About 8cm | About 55cm | About XNUM X g |
* Since the size chart is an actual measurement, there may be slight differences in dimensions.
What is Kyoto Denim?
It is the only brand in the world that applies traditional crafts Kyo Yuzen dyeing to denim and clothes to convey the true technique of kimono.
"Kyoto Denim works and products"
All of Kyoto Denim's works and products are produced with the sincerity of valuing Japan and valuing culture.
"Thinking about Japanese costumes, inheriting traditional crafts and connecting them to the next generation. 』\
There is a shortage of people to inherit, and traditional Japanese culture is being lost one after another. The true traditional craftsmanship of kimono is one of them. We apply traditional crafts Kyoyuzen dyeing to denim to create traditional crafts that can be worn in everyday life, and we want as many people as possible to know the traditional techniques used in kimono and to be interested in Japanese culture. I'm making it.
"Handicraft once in a while"
Design, pattern, textile, dyeing are all made with Kyoto Denim, and because of handicrafts, there is no exact same work and there are only a few, but I make it with all my heart.
Olive Related Products
Featured Products